Travelling in Nepal is HARD, it's exhausting, but it's also exhilarating and amazing. You're in an environment surrounded by poverty and hardship but also such peace. Life outside our Western walls is so different. The things we worry about are things they don't even know exist. Whereas the things they worry about, we wouldn't wish upon our worst enemy. For example,
Having to walk 6 hours a day to get clean drinking water,
The worries of giving your children away to give them half a chance at life
Travelling around the world in search of work to support your family, with the prospect of getting trafficked, or enslaved (believe it or not, even here in Aotearoa it happens!)
I have the power to choose where to spend my money, who to vote for, and the ability to have my voice heard every day if I wanted. I have choices. So many others in the world do not, and Nepal, one of the poorest countries in the world, don't offer choices for most of their citizens.
My highlights
The people, the beautiful kind calm and caring people
Meeting Prabin for the first time, the agricultural maestro who has been making such a wonderful impact with his training
All those beautiful women, given the opportunity and making the absolute most of it.
Spending time (and turning 50!) in the absolutely fabulous Meghauli Serai Resort in Chitwan National Park
Seeing a tiger in the wild and many rhinos (as well as stumbling over a rhinos tussle!)
Visiting the Chepang community for the first time
Being back in the mountains watching the sunrise over the Himalayas (even if it was with hundreds of other people!)
The closing ceremony at Thamdanda
Visiting Bhaktapur and our beautiful whanau there – I am so proud of their resilience but also upset that it was the last time I'd be visiting them there.
Spending time with friends we've made over the years.
A special bond with Hira and Sundar from the Rotary Club of Banepa Kavre and making wonderful new friends.
The effect Bino has on the community – honestly, this is a story that deserves its own headline, so I'll be writing about that later!
And of course, one of the biggest highlights for me was spending time with Rabindra and Padam. Without these two, there would be no HLF and I am forever and always grateful for their aroha and support.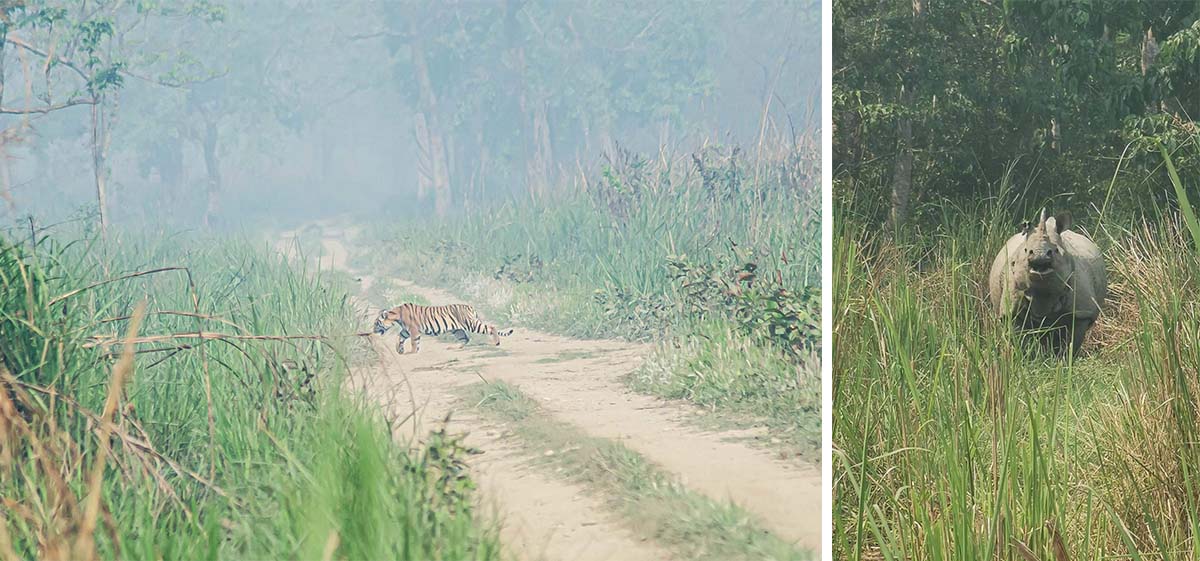 Want to travel to Nepal too?
This whole trip to me was confirmation, again, of how little it takes to do a LOT and one of the best ways you can support our mahi (work) is to travel with Rabindra and A-One Adventures. Tell your friends and family about it and anyone you know who might be travelling there. Rabindra can cater to any group size, most accessibility issues, and to your preferences – a personalised tour, a group tour, budget, or luxury – or a combination of both. Or maybe you would like to stay and volunteer? There are so many opportunities to explore different areas of Nepal, both for travel and mahi. Whether you would like a  big trek, small trek, or no trek – an ethical adventure awaits you when you travel with A-One Adventures. Plus, you can take comfort from the fact you are sustaining, training, and supporting all the workers and consultants of A-One Adventures, a principled company whose well-being and safety of their employees are something a lot of other companies in Nepal do not consider or care about. And, of course, a percentage of all A-One Adventures income is donated to HLF so you are also supporting our mahi that way. And if a trip to Nepal is something that might not be possible for you then then please consider donating here.
I will return to take a tour in September 2024 (details yet to be finalised), but there will be an opportunity for a high-altitude trek and a city tour, as well as visiting some of our projects and people. If you are interested and would like to chat, please register here.