Capture the spirit of adventure, while pushing your physical limits and being a positive force for the charity. Experience the peaks and the valleys of trekking through the world's highest mountains. Be left breathless by the views (and the altitude)! This is not a walk in the park and it may be the most physically demanding endeavour you've undertaken. But the satisfaction of achieving your goal, reaching great heights and making a difference is the ultimate reward. We provide experienced and personable guides for the duration of your trip to give you an unrivalled, incredible adventure! The main goal of charity trek is to support to poor – and earthquake victims and for women empowerment.
Kathmandu, Chitwan, Pokhara Tour and Trek in Annapurna
Day 01: Arrive in Kathmandu
Day 02: Sightseeing including visits to world heritage sites and temples
Day 03: Drive to Chitwan Wildlife National Park. 5 hour drive
Day 04: Jungle Safari, elephant and crocodile breeding center, Tharu Village, followed by cultural dance show
Day 05: Drive to Pokhara, aka City of Lakes located in the lap of massive Annapurna. 5 hour drive.
Day 06: Drive to Phedi. 45 min to trek start point. 3 hour trek to Dhampus. Explore the village and enjoy the sunset
Day 07: Trek down and drive to Pokhara.
Day 08: Fly to Kathmandu
Day 09: Last day in Kathmandu, shopping day and farewell.
Day 10: Departure.
Day 01: Arrival in Kathmandu (1,300m/4,264ft)
Day 02: Sightseeing and trek preparation
Day 03: Fly to Pokhara (823m/2,700ft) and trek to Ulleri (2050m/6725 ft). 30 minute flight and 6 hour trek
Day 04: Ulleri to Ghorepani (2,750m/9,020 ft): 4-5 hour trek
Day 05: Ghorepani to Tadapani (2,700m/8,860ft) with a visit to Poon Hill. 6-7 hour trek
Day 06: Tadapani to Ghandruk (1940m/6360 ft). 3-4 hour trek
Day 07: Ghandruk to Pokhara. 4 hour trek and 1 hour drive
Day 08: Fly to Kathmandu and visit HLF community in Bhaktapur
Day 09: Final Departure
Read the latest news from the Himalayan Leaky Foundation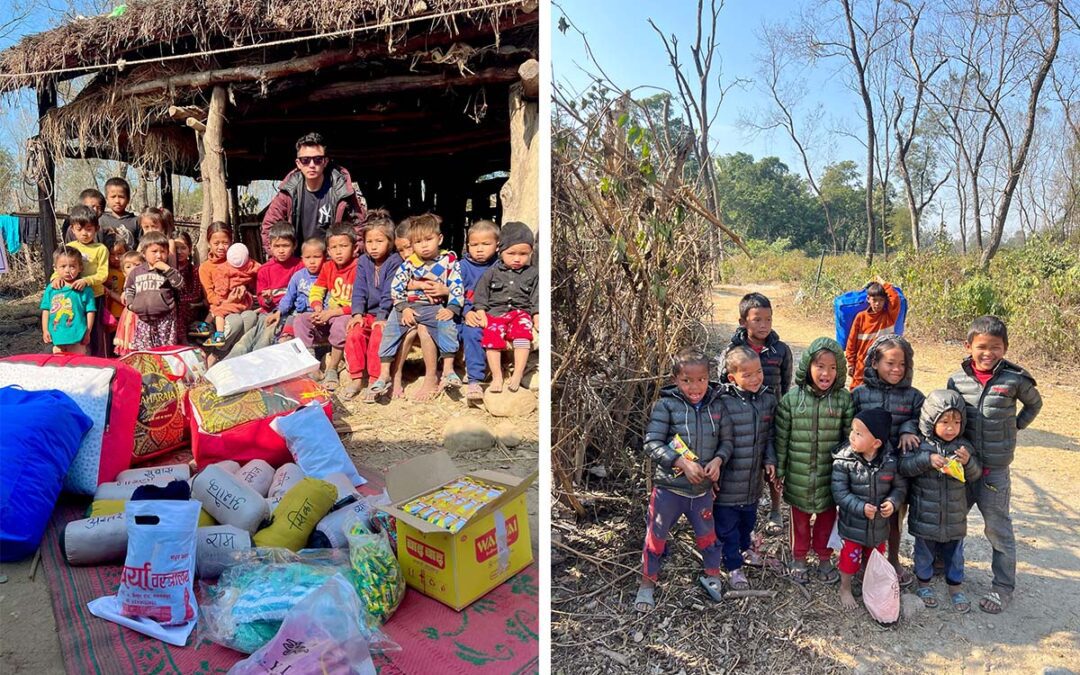 It's winter in Nepal and we quickly realised that there are a lot of children living in the village without any warm clothing or bedding. Rabindra had a fundraising drive in Kathmandu and was able to take down a lot of donated clothes. However, they were all adult clothing, so we quickly made the decision to buy warm jackets, hoodies, and blankets to distribute amongst the neediest. We had clothes for over 20 children, however, over 30 were needing support. So we distributed what we could and are presently arranging additional clothing to ensure all the children in the village are adequately clothed against the cold. Just a basic necessity!...
We support unprivileged families and provide basic needs such as shelter, education, water and sanitation, opportunities and kindness. We regularly have projects to specifically target an area of need.
Subscribe to Our Newsletter
Stay up to date with all the latest news from the Himalayan Leaky Foundation