Rabindra has recently completed further training and development that the Nepal Government provided to enable him to continue to operate in a post-Covid world. If you ever wanted to visit Nepal, then we encourage you to travel with Rabindra and his company A-One Adventures for a tailor-made exploration of this amazing colourful country. He offers personalised tours anytime, so you can travel where and how you want, whether it is high-altitude trekking that gets you excited, a leisurely city tour, or both! And by travelling with A-One Adventures, you can be assured that all employees are paid living wages and provided with insurance to ensure if anything were to happen up in the mountains, the guides and porters will be helicoptered to safety, just as a tourist would be.
Bino and I (Clare) will be returning to Nepal in April 2023 to complete a smaller trek (details to be confirmed) and visit some of the projects and people that HLF has been privileged to work with. I have always had a yearning to get back to the magic of high-altitude mountains, so there could be a base camp trek in the works for 2024!
Every trip using A-One Adventures also generates further support for all our endeavours here at HLF. On this recent trip to the Chepang villages, Rabindra was able to, for the first time since pre-Covid, donate funds from his first booking for 2022. It looks like everyone had a great time, whilst also benefiting others in need. What better holiday could you ask for?
If you are interested in travelling to Nepal, either with myself (Clare) and Bino in April 2023 or any other time, please contact us for further information. Once the itinerary has been confirmed for next year, we'll be shouting it from the rooftops!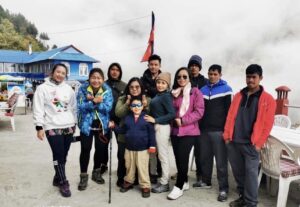 Rabindra and his happy clients.