After finally stopping bouncing with the news the Rotary Foundation Global Grant had been approved, the team got right to work and a Project Introductory Workshop was held with HLF team members, local community, Water Users Committee Executive Members, local leaders, social workers, our project partner, Rotary Club of Kavre-Banepa and a technical team from TA Consulting. Following this successful workshop, some members also visited the water source site and various sites of construction implementation.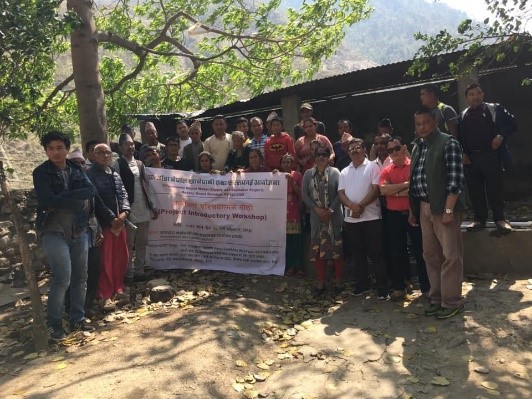 Over 60 of the local community attended the workshop and are very enthusiastic, interested and happy about the project and its implementation. Due to the many different languages spoken within Nepal, we found that the community members wanted to interact more with our indigenous speaking Tamang HLF team, as most of the elders and women cannot understand or speak the more common Nepali language spoken in the meetings. We are in the process of organizing an overnight stay in the village so we can ensure everyone understands exactly what is happening.
The engineering teams have been conducting a series of meetings regarding the components of the project, detailed design, drawings, and requirements of man power, materials and its brand with standardization. Everything is progressing well and field work and procurement of materials will be happening any day now!